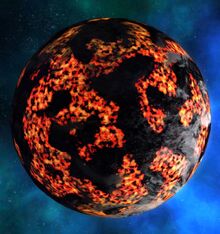 Aestus is a lava planet. This is a very dangerous planet, with pools of deadly lava, large amounts of tough Overseer enemies, plenty of Plasma Drones, and inedible plants giving the whole planet a 'final boss' feel. It is recommended that you bring heavy weaponry, a well-armoured small vessel, plenty of ammo and a change of underwear.
Like most of the Alpha planets, the name comes from Latin, meaning fire or burning.
Erestrum Ore is found here, essential for building capital ships. Don't forget your drill!
Climate
Type: Lava
Gravity: 11.21 m/s²
Atmosphere Density: 0.425 Kg/m3
Mean Temperature: 53°C
Moons: 0
Length of a Rotation: 24h
Diameter: 2608 m
Flora
Fauna
Ore
Basic ores:
Iron Meteorites
Copper
Cobalt
Neodymium
Silicon
Magnesium
Crushed Stone
Points of Interest
Ad blocker interference detected!
Wikia is a free-to-use site that makes money from advertising. We have a modified experience for viewers using ad blockers

Wikia is not accessible if you've made further modifications. Remove the custom ad blocker rule(s) and the page will load as expected.