Masperon is a planet.
Blue Crystal Can Be found in the swamp biome
Masperon

Vital statistics

Type
PvP
Level
Unknown
Location
ON THE BLOODY MAP
Inhabitants
Aliens And Drones
Ores That Can Be Found Are Promethium Ore, Crushed Stone And Zacosium
Points of intrest include
Xenu Defence I
Xenu Defence II
Xenu Defence III
Xenu Temple
Xenu Colony
Xenu Supply Station
FOR Semi-Experienced Players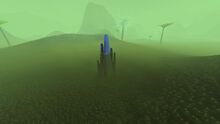 Ad blocker interference detected!
Wikia is a free-to-use site that makes money from advertising. We have a modified experience for viewers using ad blockers

Wikia is not accessible if you've made further modifications. Remove the custom ad blocker rule(s) and the page will load as expected.